1. Gross domestic product:
GDP growth in 2019Q4 was relatively high at 3.4 percent YoY, contributing to the 3.6 percent annual growth for the year (graph 1).
Graph 1: Real GDP growth, quarterly data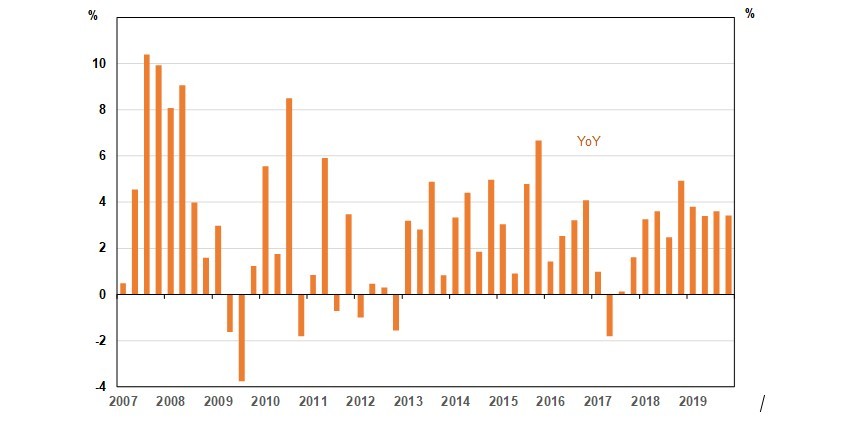 Source: State Statistical Office of Macedonia
In production terms, all economic sectors had a positive contribution for the quarter except manufacturing and mining. The biggest contributor was wholesale and retail trade (1.43 percentage points) (graph 2).
From the expenditure side, household consumption was the strongest driver of the growth contributing 3.7 percentage points to the overall growth rate. On the other hand, gross capital formation was the expenditure category with most negative effect (-1.1 percentage points).
Graph 2: Contribution to GDP growth by production sector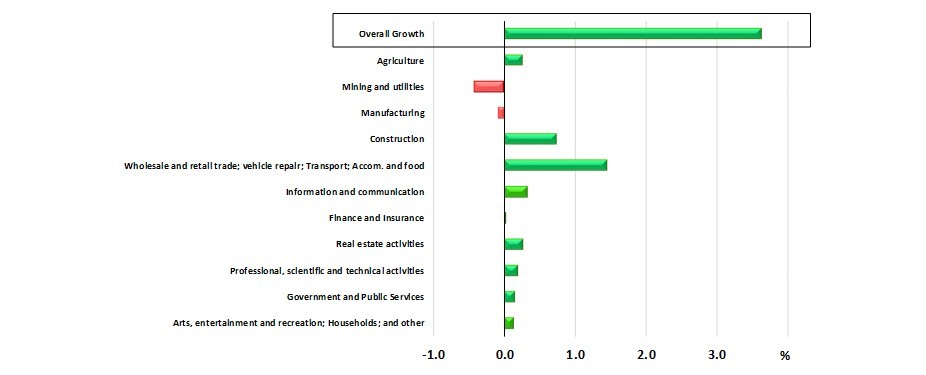 Source: State Statistical Office of Macedonia
2. Labour market (15 to 64)
Labour market data show positive developments in Q4 2019. The employment rate continued its upward trend in Q4, reaching 55.7 percent. Unemployment continued to trend down with unemployment at 16.8 percent for the quarter (from 19.6 percent, a year ago). Over eleven thousand jobs were created in the quarter. The unemployment rate for the whole year 2019 was 17.4 percent
3. Consumer prices
The consumer prices index increased by 0.7% YoY in February 2020.
4. FDI
Total inward FDI flows increased to €176.5m in Q4 2019 (graph 3). Overall net FDI inflows in 2019 amounted to only €290.6m, which is 51 percent decline compared to 2018.
Graph 3 Foreign Inward Direct Investments Flows – Macedonia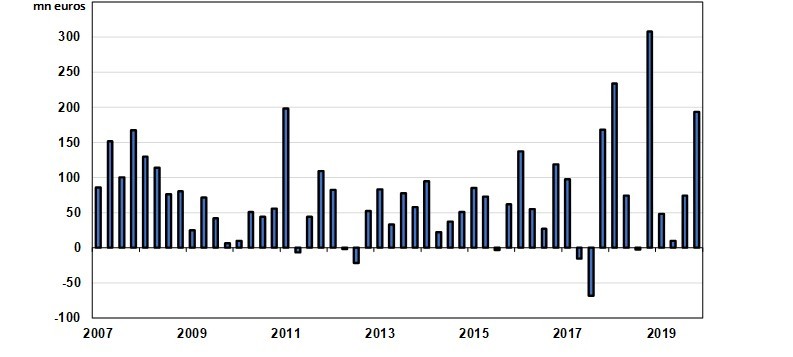 Source: NBRM
5. Country Dashboard indicators
In Q4 2019, two important indicators from the Country Dashboard were published/updated:
Democratic Freedom (from Freedom House)
Macedonia's score for democratic freedom was unchanged for 2019. Macedonia is rated as "Partly Free" with corruption and pressure on journalists being the main negatives.
Corruption Perception Index (Transparency International)
Macedonia fell thirteen places to 106 in the world in terms of corruption. Its score of 35 was the average score for Eastern Europe and Central Asia. The score is from a scale of 0 to 100 with 100 being very clean and zero being very corrupt.
Country Dashboard
Table 1: Macedonia Country Dashboard