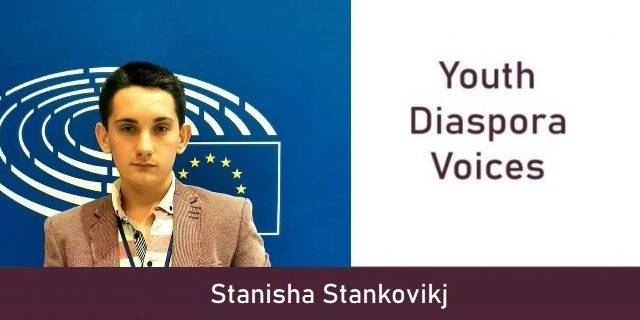 Heritage 
My name is Stanisha Stankovikj. I come from a small town called Kavadarci in North Macedonia, raised only by my mother, while the word, "father" for me is quite a "cold" and unknown noun. Even in the early high school days with activism in civic organizations and unions, with the aim of calling for actions to respect human rights and freedoms, fight against violence and discrimination, but also public focus on climate change. Today I am studying and living in Belgrade, Serbia, part of the first young organisation for children and youth from single-parent families in our country, activist for human rights and Young European Ambassador of Western Balkans.
Success Story
My first official winning award was started by Open Society Foundation Macedonia as a competition of high school students, on the topic "My Education" in Skopje, North Macedonia in 2019. It was my first public speech in front of the Minister of Education, representatives from various state institutions, directors, educators and my peers. That was my motive for future maturation as a young person in participation in a lot of projects supported and funded by the Embassy of the USA, United Kingdom, Germany, Sweden, Switzerland and Netherlands during 2020 and 2021. A large number of projects, debates, campaigns dedicated to human rights and relations. My personal involvement in this kind of education helps me to learn something more about the European Union, Council of Europe and European Court of Human Rights. Two of my favorite official visits were to the European Parliament in Strasbourg, France and Brussels, Belgium! All of these gave me "power" to bring something positive to our society. In the organization of UNICEF MK, as a youth speaker on the World Children's Day for 2021, I highlighted my commitments and activities. Addressing the problems faced by young people from single-parent families, their requests, needs and creation of essential initiatives and youth policies to the competent institutions and authorities. At the last event of the Youth Council of the US Embassy in North Macedonia, I was promoted as a strong individual with a successful story as part of a marginalized group of people. But that was not all, with exploits in organizing the first march of single families in the history of Macedonia, up to one of the winners of the award for youth participation on the occasion of the International Youth Day for 2022, in an informal group-category, supported by the President of the Republic of North Macedonia, the Agency of Youth and sports and NYCM.
Future Plans
Sometimes I wonder why exactly me, why I have to be the one who has to go through a whole hectic journey to reach a certain desired point. Over the years, I realized that each of us has a chance, that each of us is going through his own "fight" within himself, the environment or part with the state. But I learned that we, all of us can overcome those life challenges! In the future, I see myself as a consistent fighter and activist for human rights as Promoting non-discrimination, equality, tolerance, peace and love. Whether through state, private or civic organizations, I will let time decide. I believe, I know, I must and I can succeed first for myself, for my loved ones, and then for all those who have been a huge support to me so far. Improving our local, national and regional macedonian community in every sense of the word is my valued priority. Be greeted till next time!