What a journey it has been to be part of the Executive Development Program 2022 at Kellogg School of Management – Northwestern University. Being a scholarship recipient of the prestigious "Zafirovski Executive Development Program" within Macedonia 2025, the privilege is even bigger, because Kellogg is ranked in the top three Schools of Management in the United States of America for 2022!
The EDP surpassed all my expectations. As a many years' corporate professional in various managerial positions, I was looking for a program that would help me further enhance my leadership and managerial skills and prepare me for the next level of my career.
The curriculum was challenging, but the top-class faculty members were engaging and provided a variety of knowledge and insights. I was able to learn from their practical and industry experiences and apply the lessons learned to my own professional development.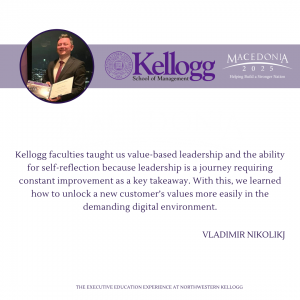 What I appreciated most about the program was the accent on practical application. The program provided numerous opportunities to practice new business skills and apply what we learned to real-world scenarios. This approach helped me to build confidence in my abilities and become a more effective leader. But what is more important is that the Kellogg faculties taught us value-based leadership and the ability for self-reflection because leadership is a journey requiring constant improvement as a key takeaway. With this, we learned how to unlock a new customer's values more easily in the demanding digital environment.
As a supplement to the academic curriculum, the program offered various opportunities for networking and collaboration with other executives coming from large international companies and various countries worldwide. I am more than confident that this cohort will make a positive contribution as well to my continued growth and development as a leader in general.
Overall, I highly recommend the Executive Development Program to anyone who is looking to enhance their leadership skills and advance their career. The program provided me with the means and knowledge I needed to be a more effective and successful leader.
Finally, I am extremely grateful to Macedonia 2025, its executive team, and especially to Mr. Mike Zafirovski for the opportunity to acquire this priceless experience.
Participant: Vladimir Nikolikj, Ph.D., MBA, General Manager, University Professor
Company: Lycamobile, EU, UKIM